Exploring Grand Canyon South Rim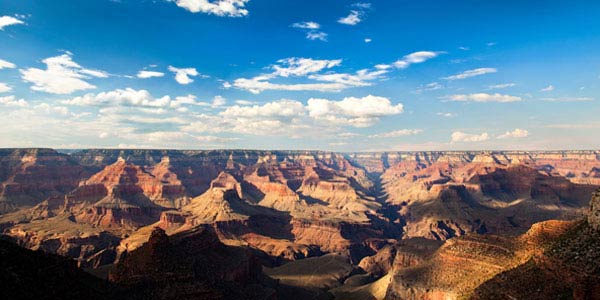 "The Grand Canyon is a gift that transcends what we experience. Its beauty and size humbles us; its timelessness provokes a comparison to our short existence; in its vast spaces we may find solace from our hectic lives."
Grand Canyon National Park - the jewel of the American Southwest. The South Rim is open year-round, and regarded by many as "the true Grand Canyon". During one of our exciting Grand Canyon tours from Las Vegas you will witness the panoramic, sweeping vistas rimmed by majestic forests, most of the photographs and film footage of the Canyon that people see throughout their lives is from the South Rim.
The Canyon Rim is the most developed area of the park, with 6 hotels within its borders, and 5 hotels just outside the park in the small community of Tusayan. Numerous restaurants, gift shops and visitor information centers can be found in the immediate area of Grand Canyon South Rim.