Equipment
Aircraft
Twin Otter
The De Havilland Twin Otter Vistaliner is the best aircraft in the world for sightseeing!
Our famous Twin Otters have been specially designed with large oversized windows for unbelievable panoramic views. The wings are set high on the plane so every seat has a unobstructed view. No other aerial sightseeing company offers a high-wing, oversized window experience!
Twin Otter has fantastic short take-off and landing capabilities, allowing access to the great southwest sights such as Monument Valley and Bryce Canyon. Scenic Airlines is the only company that can fly you right into the Navajo lands of Monument Valley.
Features: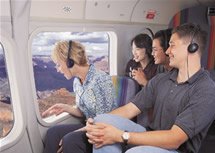 Large, oversized sightseeing windows measuring 3ft by 2ft for panoramic viewing and excellent photography.
High wing design for unobstructed views - Never sit over a wing to obstructe your view!
Air Conditioned Aircraft.
Tour narrations available in 16 languages.
Seats 19 passenger
Quiet and spacious cabin.
Twin turbine engine with environmentally friendly quiet technology.
Scenic Uses the Twin Otter For:

Tour operations to Grand Canyon National Park
Tour operations to Grand Canyon West
Tour operations to Bryce Canyon
Tour operations to Monument Valley
Customized sightseeing charters
All Aircraft:
Two pilots flying with the same high qualifications required by major airlines.
All captains have an FAA Air Transport Pilot rating.
Enhanced safety equipment including TCAS (Traffic Collision Avoidance System) and GPWS (Ground Proximity Warning System)
All air tour and sightseeing operations are charter flights operating under the FAA rules applicable to charter air transportation.