Grand Canyon National Park Fast Facts
---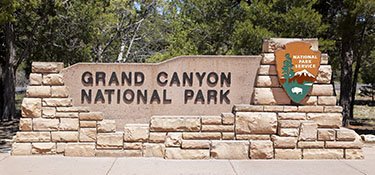 DESCRIPTION
The Grand Canyon National Park, known as the South Rim, is the most famous area of the park. Its 11-mile-wide gorge has provided the classic "postcard" image of the canyon recognized around the world. The South Rim is the most visited area of the canyon, dazzling guests with its awe-inspiring scenery. Grand Canyon maps.
There are many ways to experience the canyon, including hiking, mule rides, and airplane and helicopter tours. Grand Canyon air tours at the South Rim can fly you over the canyon gorge for spectacular aerial views. Tours that reach the bottom of the canyon are only available at the Grand Canyon West Rim.
For more detailed information on weather, geology, history, and general information, see our Grand Canyon Visitor Information.
---
FAST  FACTS

  

Yearly Visitation

5 million people

---

Elevation

7,000 feet

2,134 meters

Rim to Floor Depth

5,000 feet

1,524 meters

Distance Across Gorge

10-18 miles

16-29 kilometers

 

---

---

Rim Temperature Average

80 F Summer

20 C Summer

50 F Winter

10 C Winter

Inner Gorge Temperature

100 F Summer

38 C Summer

60 F Winter

15 C Winter

 

---

---

Distance From Las Vegas

by car

5.5 hours

 

by airplane

1 hour 15 minutes

 

by helicopter

unable