Grand Canyon West Fast Facts
---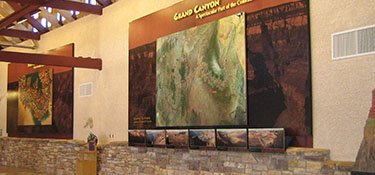 Hualapai Indian Tribal Lands
DESCRIPTION
The Grand Canyon West lies amidst the Tribal Lands of the Hualapai Nation, about two hours east of Las Vegas and three hours west of the Grand Canyon National Park. See more at Grand Canyon maps.
The West Rim provides an exclusive opportunity not offered at the South Rim: a helicopter flight down to the canyon floor. This is the only area of the canyon that allows visitors to access the bottom of this magnificent landmark. The ambiance here is much more rustic than the bustling South Rim. The serene atmosphere surrounding the canyon views are utterly inspiring. You are also invited to explore the Native American cultural village and the ancient people that roamed this sacred land.
Grand Canyon tours include airplane flights, helicopters, boat rides and ATVs.
Tours
to Grand Canyon West
---

FAST  FACTS

  

Average Yearly Visitation

600,000 people

---

Elevation

4,800 feet

1,463 meters

Rim to Floor Depth

3,800 feet

1,158 meters

Distance Across Gorge

2-3 miles

3-5 kilometers

 

---

---

Rim Temperature Average

95 F Summer

35 C Summer

55 F Winter

13 C Winter

Inner Gorge Temperature

108 F Summer

42 C Summer

60 F Winter

15 C Winter

 

---

---

Distance From Las Vegas

by car

3.5 hours

 

by airplane

45 minutes

 

by helicopter

1 hour