West Rim Activities and Tours
Hualapai Indian Lands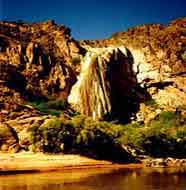 Grand Canyon West is in close proximity to the Las Vegas metropolitan hub, whereas, in contrast, the South Rim is close to the rural hub of Flagstaff and Williams. Canyon West involves a portion of Grand Canyon Rim that is located within the Hualapai Indian Reservation that was established by Executive Order in 1883 under President Chester A. Arthur. The Hualapai Reservation claims approximately 108 miles of the South Rim as its most northern border. While the reservation measures a little under 1 million acres, the Hualapai have enjoyed a cultural existence in and around the Canyon since 1300 A.D. when their ancestors the Cerbats migrated into the area. One could say that they are well acquainted with a role as "Canyon caretakers."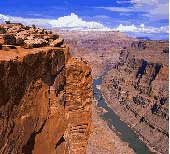 The Hualapai Indians have set aside over 9,000 acres of Rim country for tourist purposes. It is officially known as "Grand Canyon West." Located only 120 miles from Las Vegas via U.S. Highway 93, it is strategically located on the South Rim of the Canyon and provides three distinct Viewpoints. Grand Canyon West hosts a public access airport with a 5,000 linear foot airstrip. The airstrip is limited to single and multi-engine aircraft with a maximum certified takeoff weight of 12,500 pounds or less. Access to this location also includes ground travel via Mohave County Route 25 (Pierce Ferry Road). Grand Canyon West is open daily and receives buses, chartered jeeps and other vehicles. For more info call the Grand Canyon Resort Corporation that is owned and operated by the Hualapai Tribe at (928) 769-2419.
Activities and Tours
Air Tours
From Las Vegas to Grand Canyon West
SCENIC AIRLINES (800) 634-6801, (702) 638-3300 - To see all of our Grand Canyon West Sightseeing Tours, click here: Grand Canyon Airplane Tours
Helicopter Tour Operators
Papillon Helicopters (888) 635-7272 or (702) 736-7243
Motor Coach Rim Tours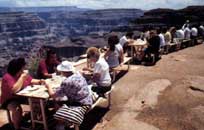 Grand Canyon West offers a 4.5 mile tour along the rim that combines a bus tour and a barbecue lunch at the rim. Tour costs are $35 for adults and $22 for children 2 – 12. This tour lasts approximately 2 hours and runs from 10:00 a.m. to 3:00 p.m. Another option is to purchase a $10 trespass permit at the Air Terminal desk and drive to Quartermaster vista. The overlook is dramatic and the Canyon walls are sheer at this location.
Bright Angel Point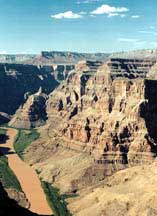 The Hualapai Tribe hosts a Grand Canyon International Marathon and Half Marathon at their Grand Canyon West location. This event will occur annually and is geared for international audiences. The 26.2 mile course has been certified by the United States Track and Field Association and online registration is available through www.active.com. Runners will enjoy dramatic Canyon vistas and Native American entertainment.