North Rim Activities and Tours
Activites and Tours
Mule Rides

Grand Canyon Trail Rides, a family run business, conducts mule rides on the North Rim. They offer a variety of trips ranging from a 1-mile ride that lasts 1 hour to an all-day ride that travels 5-miles on the North Kaibab Trail. Prices range between $15 and $95 per person. To make reservations during the season, call: (928) 638-9875 or during the off-season, call: (801) 679-8665.
Horseback Riding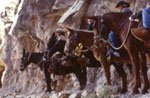 Allen's Guided Tours offers horseback rides Monday through Saturday from Jacob Lake through portions of the Kaibab National Forest. Rides vary in length and range from 1-hour to full-day overlooking the eastern canyon. Prices range between $15 and $75 per person depending on the length of the trip. For info call: (435) 644-8150.
Biking

Biking on the North Rim offers a variety of trails and road systems that border the rim of the Canyon. Information may be obtained from the Kaibab Plateau Visitor Center in Jacob Lake or call (928) 643-7298. Bike rentals are not available on the North Rim, however, Kaibab Adventure Outfitters located in Moab, Utah, supply biking and camping gear as well as van-supported bike tours. For info call: (801) 259-7423.
Cross-Country Skiing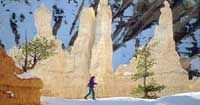 Despite the closure of Kaibab Lodge's Nordic ski program, one may still park near the south end of Jacob Lake at the Hwy 67 gate, and ski into the park. A backcountry permit will be required. For more info call the Backcountry Office at (928) 638-7875.
Places to Visit
North Rim Visitor Center
Open daily from 8 a.m. – 6 p.m. The Visitor Center contains exhibits an information desk. For info call: (928) 638-7864. Signs list the times for nature walks and children's programs.
Grand Canyon Lodge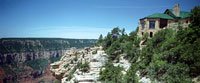 The Lodge provides the only accommodations within the park on the North Rim. It contains a rustic restaurant, gift shop, general store, post office and a saloon. A service station is nearby. For info call: (928) 638-2631.
Bright Angel Point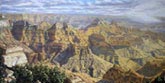 This ½ mile paved foot trail leads a sensational viewpoint of Roaring Springs Canyon, Transept Canyon and Bright Angel Canyon. The trail also provides a look at shell fossils located in Kaibab limestone after the stone bridge.
Kaibab Visitor Center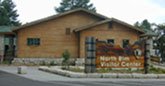 Located in Jacob Lake, this Center provides information about Kaibab National Forest. Open daily between 8 a.m. – 5 p.m., it houses exhibits, maps and a 3-D model of the Grand Canyon. For info call: (928) 643-7298.
Scenic Driving Tours
Cape Royal Scenic Drive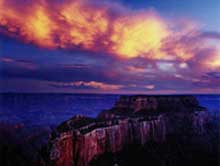 This scenic drive follows some of the North Rim's most beautiful views and utilizes the paved Cape Royal Road. Viewpoints include Point Imperial, Vista Encantadora, Roosevelt Point, Walhalla Overlook, Angel's Window and Cape Royal. The total driving distance from the Grand Canyon Lodge is approximately 23 miles.
This North Rim Drive was named after Cape Royal with an elevation of 7,865 feet. A panorama is featured at this point that is the southern most viewpoint of the Grand Canyon on the North Rim.
North Rim Trails
Trails vary in length and difficulty. Hikers should obtain information about trails from --- regarding hike-in and hike-out estimated times, the optimal seasons of the year for hiking a particular route and a list of park amenities offered along each trail. visit the park's web site at http://www.nps.gov/grca/planyourvisit/backcountry.htm.
Transept Trail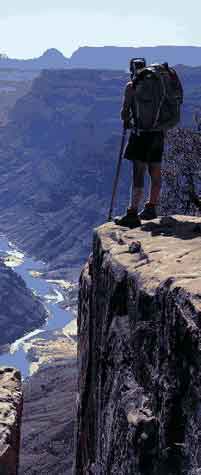 This trail measures 1.5 miles in length and offers rim vistas between the Grand Canyon Lodge and Cottonwood Campground. It passes through ponderosa pine and quaking aspen and travels east along the rim of Transept Canyon.
Cape Final Trail
3 miles in length, it leads to an overlook of the northern canyon and Juno Temple. The trail is partially flat and free of boulders.
Cliff Springs Trail
Passing an ancestral pueblo granary, this trail measures .5 miles each way and contains rocky stretches along the Walhalla Plateau.
Ken Patrick Trail
The Ken Patrick Trail measures 20 miles round trip. Viewpoints include rim vistas and Nankoweap Creek drainages.
Uncle Jim Trail
10 miles in length, this hike provides excellent views of Bright Angel Point, Roaring Springs, and the upper switchbacks of the North Kaibab Trail canyons. The trail is named after Jim Owens, a game warden who lived in the early 1900's.
Widforss Trail
This trail measures 10 miles round-trip. Considered by some to be one of the nicest trails in the park, it was named after the landscape painter Gunnar Widforss. Viewpoints include five Canyon temples at Widforss Point: Zoroaster, Brahma, Deva, Buddha and Manu.
Walhalla Ruins
100 yards from Walhalla Overlook sits pueblo ruins once used by the Kayenta Anasazi. This culture farmed hundreds of acres near the Canyon rim before 1150 A.D.
North Kaibab Trail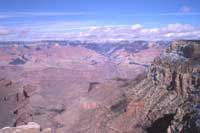 This trail begins with a long series of switchbacks and measures 14.4 miles to the Colorado River, dropping 5,850 vertical feet. The descent is demanding for any hiker. The trail takes one through Cottonwood Campground and vistas include Roaring Springs and Bright Angel Canyon.
Western & Eastern Kaibab Plateau Trails
Located north of Bright Angel Point, the Kaibab Plateau provides diverse trailhead wilderness for enthusiastic hikers. Both the western and eastern portions of the Kaibab Plateau encompass Grand Canyon territory and provide great views and limited hiker amenities. For more info call the Kaibab Plateau Visitor Center at (928) 643-7298.
Toroweap
Toroweap is located approximately 140 miles west of Bright Angel Point on the North Rim. Sheer cliffs with dramatic vertical walls characterize the rock formations of the Canyon in this area. Trails near the rim and a descent to the river near Lava Falls are possible from this location. For more information, contact the Toroweap (Tuweep) Ranger Station at: (928) 716-2843.