Inner Canyon Activities and Tours
Colorado River Running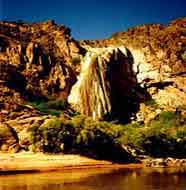 The Colorado River drops over 2,200 feet in depth within the Inner Gorge of the Grand Canyon, an average of 8' per river mile. The 70 major rapids stretched throughout the course are rated on a scale of 1 to 10, with 10 being the most extreme. Motorized craft can travel the entire length of the Inner Gorge, 277 miles, from Lee's Ferry to Pierce Ferry in approximately 6 – 9 days. Oar or paddle-driven boats can take as long as 19 days to cover the same distance. There are reasons for both types of rafting service. Non-motorized trips give rafters more time to conduct excursions within the Canyon. They promote multiple perspectives of the Canyon from dusk to dawn and take the river at its own natural pace. Motorized trips maximize the limited time that a rafter might have and allow more of the Canyon to be seen that otherwise might never be experienced. In both cases, the River never disappoints its guests, and whether the ride lasts one day or twenty days, the experience immerses a person in a profound display of visual magnitude and ecological wonder.
Lee's Ferry (River Mile 0)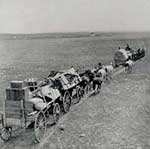 Lee's Ferry is located upstream from Grand Canyon National Park and downstream from Glen Canyon Dam. Lee's Ferry is 87.5 miles to Phantom Ranch; 226 miles to Diamond Creek; and 277 miles to Pierce Ferry.
The ferry takes its name after its founder, John D. Lee, a participant in the infamous Mountain Meadow Massacre of 1857 in which members of a friendly wagon train were massacred by Paiute Indians and renegade Mormon settlers. Lee started the ferry in 1872, taking refuge from the law by hiding out in the Grand Canyon. Eventually a federal investigation concluded that Lee was guilty and in 1877, he was arrested and executed. The ferry continued, despite the change in ownership, and was operable until 1929 when the Navajo Bridge was completed that spanned the Canyon. Until that point, cars and passengers were obliged to cross by ferry.
Lee's Ferry today has been designated an Historic District in addition to the adjoining settlement "Lonely Dell Ranch", also an Historic District. Visitors may tour old buildings, mining apparatuses, the ferry site, log cabins, the cemetery and blacksmith and Lee's Ferry Fort. Entry into the historic districts costs $5 per vehicle and $3 for cyclists or hikers, good for 7 days. For more info call the Ranger Station on site at (928) 355-2234.

For those wishing to stay a night before ramping off on a Grand Canyon rafting trip or simply to tour the area, there are several choices in accommodation:
Marble Canyon Lodge: Located on US 89A at Lee's Ferry turnoff. For info call: (800) 726-1789 or (928) 355-2225.
Lee's Ferry Lodge: Located on US 89A. For info call: (928) 355-2231
Cliff Dweller's Lodge: Located on US 89A. For info call: (928) 355-2228
Phantom Ranch (River Mile 87)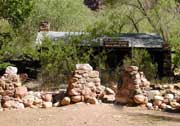 Phantom Ranch is located ½ miles north of the Colorado River on the North Kaibab Trail. It was completed in the 1930's and currently provides dormitory beds and cabins for travelers. Phantom Ranch offers the only lodging below the Canyon Rim and rooms are typically sold out 24 months in advance. Dormitory beds cost $22.85 per person; and 4-Person Cabins cost $65.95 with an additional $11.70 for each extra person.
The Ranch was originally established in 1903 by David Rust a Canyon Guide. Tourists and members of hunting parties knew the camp as "Rust's Camp." Through the years that followed, Rust made additions to the site including a cable car across the river that was later replaced by a swinging bridge. In 1913, the camp was honored to receive President Theodore Roosevelt as one of its guests. In 1921, the swinging bridge that Rust had constructed was replaced by the Kaibab Suspension Bridge. In 1922, Mary Colton, famed architect of the Grand Canyon, designed tourist accommodations for the area, under a contract with the Fred Harvey Company. She renamed the camp "Phantom's Ranch" after a tributary of Bright Angel Creek.
Today, Phantom's Ranch offers guests a chance to hike to Ribbon Falls or along the River Trail. Advance Reservations may be made by calling: (303) 297-2757 or (928) 638-3283. Inquiries less than 4 days in advance may be directed to: (928) 638-2631.

Whitmore Wash (River Mile 187)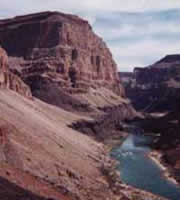 Whitmore Wash is located below Lava Falls Rapid, a "10" on the difficulty scale for river navigation. Rafters may fly in or fly out at this point on the river using helicopter service that lands on a sandy beach located on River left or south. This portion of land belongs to the Hualapai Indian Tribe and they operate helicopter shuttles to a lodge located on the North Rim known as Bar 10 Guest Ranch. From this location, a dirt air strip supports fixed wing operations allowing the transport of passengers from Bar 10 to other destinations such as Las Vegas.

Whitmore Wash is also the location of Whitmore Trail. This trail switchbacks nearly 1,000 feet down a lava flow formation ¾ of a mile from rim to river. It is the shortest access between the rim and river within the Grand Canyon National Park. River passengers who are concluding their run, have the option of climbing out Whitmore Trail and hiking to Bar 10 Ranch. The ruggedness of the terrain and the steep climb usually motivate rafters to use helicopters instead.
Bar 10 Guest Ranch offers a western ranch experience with a variety of accommodation options. Interested parties may also customize their reservations and experience with Bar 10 owners. Bar 10 Ranch may be reached at: (800) 582-4139 or www.bar10.com.
Diamond Creek (River Mile 226)
The Diamond Creek is a tributary of the Grand Canyon and converges with the Colorado River at river mile 226. This unique canyon is the only location within the Grand Canyon National Park that allows a vehicle to drive from the Rim to the River. The dirt and gravel road descends 4,600 feet and is primitive despite regular Hualapai maintenance. During monsoon seasons, flooding is common and dangerous for even the sturdiest of vehicles.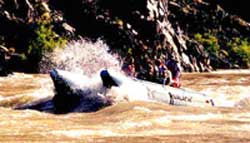 At the confluence of Diamond Creek and the Colorado, a sandy beach may be utilized for take outs and ramp offs. The Hualapai River Runners, a commercial operation owned by the Grand Canyon Resort Corporation and the Hualapai Tribe, use Diamond Creek on a daily basis during their rafting season. The beach may be busy at times and the 3 metal ramadas maintained on site offer little by way of amenities.
Trespass permits should be obtained from the Hualapai Tribe before one drives down Diamond Creek Canyon. Respect for the privacy of Hualapai land should be maintained at all times during ones visit. For more info call: (928) 769-2419. For those wishing to spend more time getting to know the Hualapai, there is a 60-room Hualapai Lodge located on Historic 66 that sits at the beginning of Diamond Creek Road in Peach Springs, AZ. For Reservations call: (888) 255-9550 or (928) 769-2230.
Pierce Ferry (River Mile 277)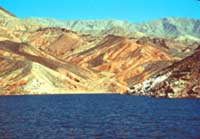 Pierce Ferry is actually located within the upper end of Lake Mead National Recreation Area and not the Grand Canyon National Park. However, Pierce Ferry is synonymous with Lee's Ferry in that it concludes one end of the Grand Canyon Colorado River experience. Pierce Ferry is named after one of its operators, Harrison Pierce, who ran a ferry in 1876.
One can reach Pierce Ferry using the South Cove take out road near the town of Meadview, AZ. Pierce Ferry has a primitive ramp for boat take outs and no amenities. When the water flow from the Glen Canyon Dam is low in terms of cubic feet per second, take outs at Pierce Ferry become difficult and rafters may be forced to travel to South Cove, approximately 2-3 hours additional travel time using motorized craft.
River Running Operations
The river rafting season is open to motorized and non-motorized craft between April and October of each year. From mid-September through mid-December only non-motorized craft are allowed on the river. Approximately one third of all river runners obtain non-commercial permits. The waiting list for river rafting down the Inner Canyon has been known to extend up to 12 years.
Canoeing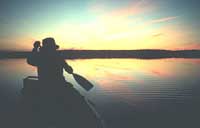 Canoeing is allowed within the last 40 miles of the Inner Canyon. Powerboats are allowed to carry canoes from Lake Mead to Separation Canyon located at river mile 240. No fee or permit is required for boating or camping, however, river left or south constitutes the southern shoreline of the Hualapai Indian Tribe and permits are required should a boating party plan to utilize their land. For info call: (928) 769-2419.
Non-commercial Permits
This page contains most of the information you will need to schedule and maintain your Noncommercial River Permit.
To Contact the River Permits Office:
You may call them directly toll free 1-800-959-9164 or outside the U.S. at 928-638-7843. FAX number is (928) 638-7844.
You may also write to:
Grand Canyon River Permits Office
Grand Canyon National Park
PO Box 129
Grand Canyon, AZ 86023
Since the River Permits Office is not set up to receive and answer requests by Email, questions and comments should be made by phone, fax, or regular mail.
Waiting List Information:
How do I get my name on the waiting list?
To join the waiting list, please complete the new addition application and enclose payment of $100.00. Payment can be in the form of a check (personal or cashier's), money order, or credit card authorization. Applications will not be accepted if they are not postmarked or faxed in the month of FEBRUARY. Those who miss this deadline will have to wait until the next year.
Commercial River Operators
There is no experience in the world that measures up to the grandeur and history of the Grand Canyon. Major John Wesley Powell and ten brave men were the first to discover the magic and beauty of the Canyon during their historic descent in 1869.
Since that trip, thousands of people from all walks of life have explored the many side canyons, waterfalls, wildlife and have tried to tame the thundering rapids of the Colorado. You will find links to Commercial Rafting companies who can help you experience Grand Canyon on this page.
Commercial outfitters offer a variety of trips. Most trips take 7-18 days involving a variety of craft-paddle rafts, motorized rafts, and dories. Please contact the companies directly for more details. The following concessioners have been permitted to operate in Grand Canyon by the National Park Service.
Aramark-Wilderness River Adventures
P.O. Box 717, Page, AZ 86040
(800) 992-8022; (928) 645-3296; FAX (928) 645-6113
Arizona Raft Adventures, Inc.
4050-F E. Huntington Drive, Flagstaff, AZ 86004
(800) 786-RAFT; (928) 526-8200; FAX (928) 526-8246
Arizona River Runners, Inc.
P.O. Box 47788, Phoenix, AZ 85068-7788
(800) 477-7238; (602) 867-4866; FAX (602) 867-2174
Canyon Explorations/Canyon Expeditions
P.O. Box 310, Flagstaff, AZ 86002
(800) 654-0723; (928) 774-4559; FAX (928) 774-4655
Canyoneers, Inc.
P.O. Box 2997, Flagstaff, AZ 86003
(800) 525-0924; (928) 526-0924; FAX (928) 527-9398
Colorado River & Trail Expeditions, Inc.
P.O. Box 57575, Salt Lake City, UT 84157-0575
(800) 253-7328; (801) 261-1789; FAX (801) 268-1193
Diamond River Adventures, Inc.
P.O. Box 1300, Page, AZ 86040
(800) 343-3121; (928) 645-8866; FAX (928) 645-9536
Grand Canyon Dories
P.O. Box 216, Altaville, CA 95221
(800) 877-3679; (209) 736-0805; FAX (209) 736-2902
Grand Canyon Expeditions Company
P.O. Box 0, Kanab, UT 84741
(800) 544-2691; (435) 644-2691
Hatch River Expeditions, Inc.
P.O. Box 1200, Vernal, UT 84078
(800) 433-8966; (435) 789-3813; FAX (435) 789-4126
High Desert Adventures, Inc.
P.O. Box 40, St. George, UT 84771-0040
(800) 673-1733; (435) 673-1733; FAX (435) 673-6696
High Desert Adventures, Inc.
P.O. Box 40, St. George, UT 84771-0040
(800) 673-1733; (435) 673-1733; FAX (435) 673-6696
Moki Mac River Expeditions, Inc.
P.O. Box 71242, Salt Lake City, UT 84171-0242
(800) 284-7280; (801) 268-6667; FAX (801) 262-0935
O.A.R.S.
P.O. Box 67, Angles Camp, CA 95222,
(800) 346-6277; (209) 736-2924; FAX (209) 736-2902
Outdoors Unlimited
6900 Townsend Winona Road, Flagstaff, AZ 86004
(800) 637-7238; (928) 526-4546; FAX (928) 526-6185
Tour West, Inc.
P.O. Box 333, Orem, UT 84059
(800) 453-9107; (801) 225-0755; FAX (801) 225-7979
Western River Expeditions, Inc.
7258 Racquet Club Drive, Salt Lake City, UT 84121
(800) 453-7450; (801) 942-6669; FAX (801) 942-8514
Inner Canyon Trails & Hiking
There is a wide variety of Inner Canyon trails that are geared for visitors of different hiking caliber. Terrain is classified into zones so that hikers will be aware of the difference between a regularly maintained "corridor" zone and a "primitive" zone that presents at times hazardous conditions. The general rule of thumb to be observed by hikers is to allow 1/3 of ones time on the descent and 2/3's for the return ascent. The Canyon remains untamed, a wilderness setting that can be dangerous in a myriad of ways. Wind, rain, heat, flash flooding, lack of water are basic challenges that must be carefully considered by hikers for each trail encountered in the Inner Canyon. For a complete listing of trails and recommendations by the National Park Service for hiker preparation, contact the Backcountry Information Center at (928) 638-7875.